Wagner Powder Gun Systems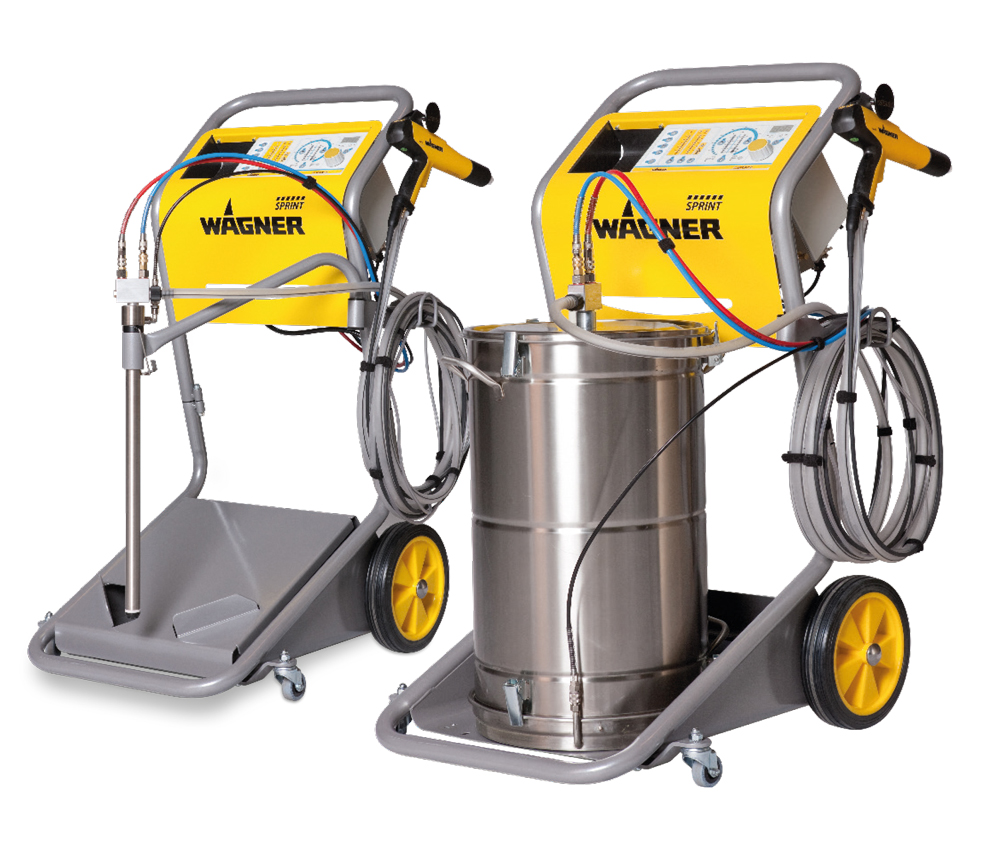 SPRINT family of manual systems
The integrated flushing function at the touch of a button, the lance locking device and various plugs and sockets allow efficient box and colour changes.
The clear arrangement of operating elements and the fast recipe adjustment in the EPG SPRINT XE control unit allows easy handling for the daily work.
The powder is conveyed directly from the original container or from 25-litre, 60-litre stainless steel fluid containers.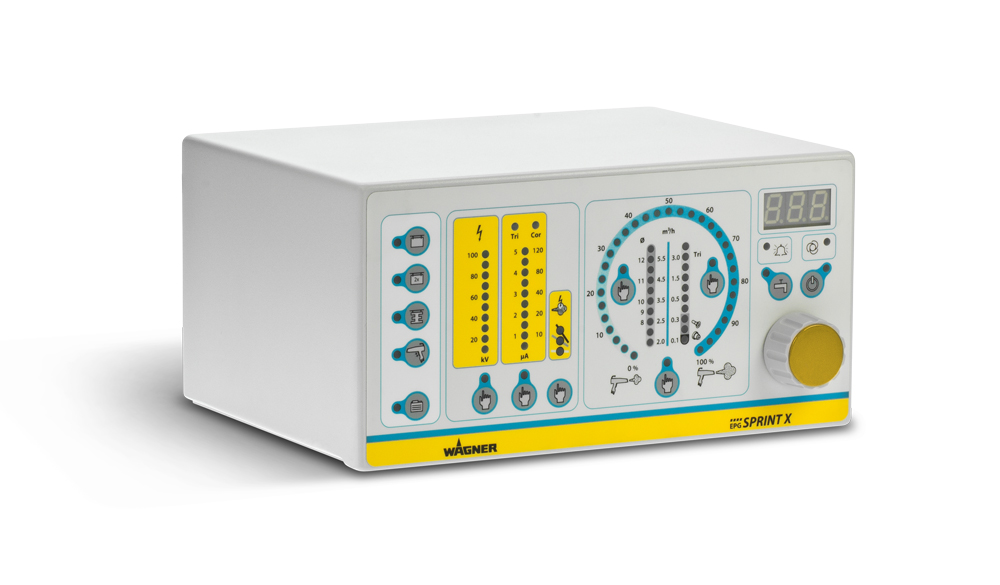 Control unit EPG SPRINT XE
The WAGNER Air Flow Control (AFC) technology ensures exact powder control. A high-precision, closed control loop permanently measures and regulates the air volume during the coating process and thus produces a uniform powder cloud for high-quality coating results.
Clearly arranged control elements allow intuitive handling. All parameters are entered via a central rotary knob. The intelligent control system can be adapted to a wide range of requirements by means of a multitude of setting options.
The EPG SPRINT XE enables results to be repeated at any time. Four recipes can be accessed directly via quick selection. When using the rotary knob, a further 46 recipes can be selected. All coating parameters can be viewed in an instant.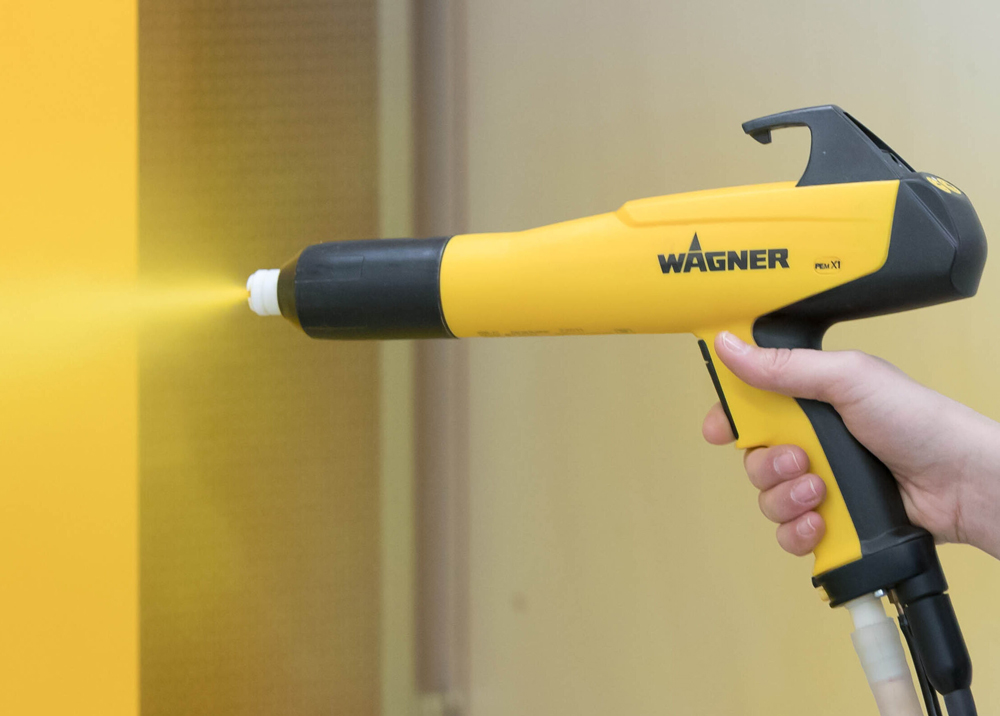 Manual gun PEM-X1
With only 490 g, the PEM-X1 is a lightweight powder gun, while also being very robust at the same time. In combination with its ergonomic design, it enables fatigue-free working.
The integrated remote control allows a quick adjustment of the powder quantity. A double click on the trigger enables a quick change to a special recipe. Even factory-set recipes can be assigned individual parameters.
The integrated high-power cascade keeps the high voltage stable even at 100 kV, thus enabling high coating performance. With the cascade characteristic curve adjustment, even powder coatings that are difficult to charge can be coated efficiently. The integrated cascade cooling ensures a long service life and durable performance. The replaceable protective wedge in the electrode holder reduces the cost of wearing parts.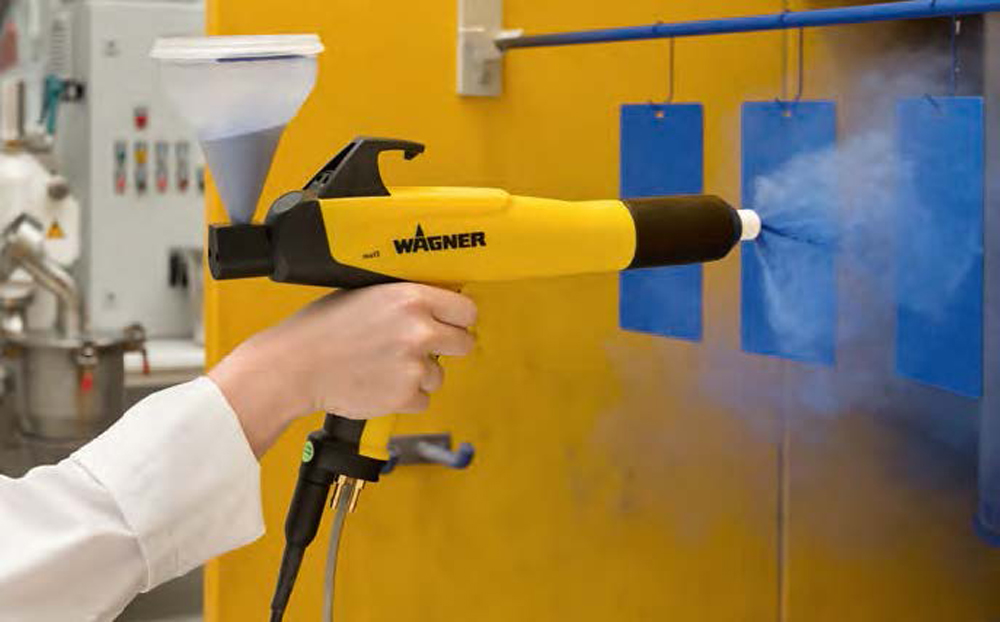 Cup gun PEM-X1 CG
Due to its easy handling and ergonomics, the cup gun offers a suitable solution for laboratory and development purposes, as well as for powder coating of single parts and small quantities. Due to the simple plug-in principle, colour change times of approx 20 seconds can be achieved. The special funnel geometry helps powder flow.
Why purchase from us?
IP&PS Ltd / Powder FX are a Tier 1 distributor of Wagner powder equipment for more than 25 years. We have a vast amount of knowledge on Wagner powder guns and fully service and support the units in-house. When we sell a unit it is fully built and tested we then programme the unit to the customer's requirements only power and air connections are required. We offer full technical support over phone or video, all spare parts are available in stock for next day delivery.